SACNAS' National Diversity in STEM Conference is the largest multidisciplinary and multicultural STEM diversity event in the country for college students and professionals.
Known for our blend of science, culture, and community, the SACNAS conference invites attendees to bring their whole selves — their identity, background, experiences, and talents— to STEM. Through strategic partnerships with institutions, companies, and agencies all over the country, the SACNAS conference provides attendees access to the opportunities and connections they need to excel in their education and careers.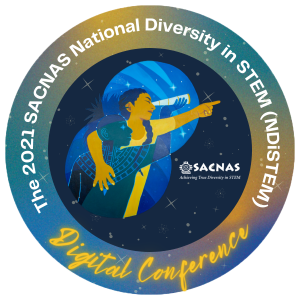 Over the course of the event, college-level through professional attendees are immersed in cutting-edge STEM research, professional development sessions, motivational keynote speakers, and the Graduate School & Career Expo Hall, as well as multicultural celebrations and traditions, and an inclusive and welcoming community of peers, mentors, and role models. Simply put, the SACNAS conference is a broadly inclusive space where you are encouraged and empowered to bring your whole self to STEM.
Conference Details
Who: All STEM undergraduate students
What: STEM diversity conference
When: October 25 – October 29
Where: virtual event
SACNAS Scholarship Application Instructions
Do you want to attend the SACNAS conference but do not have the resources to register? Apply for a scholarship through ¡MIRA!
To apply: simply send an e-mail to mira@nau.edu by OCTOBER 13th answering the following questions:
Why do you want to attend SACNAS conference?
What do you hope to get out of attending? 
Apply for a SACNAS Scholarship